It's here: our newest Divi integration - Divi Payments! Divi Payments will provide Divi users with the ability to create and place custom payment forms anywhere on their website. The payment forms are powered by Stripe.
Divi Payments vs other e-commerce plugins
Simply put, not everyone needs WooCommerce. E-commerce plugins for WordPress, such as WooCommerce and Easy Digital Downloads, are fantastic solutions for those who need their features. If you need a shopping cart, advanced product management, or shipping integrations, they'll be your better options.
Divi Payments allows for creating simple payment forms, and placing them where you need. That said, Divi Payments does include a number of handy features that you also get with larger e-commerce plugins. Let's take a look at what Divi Payment does.
Divi Payments Settings
After installing Divi Payments, you'll need to configure its settings. This is where you'll add your Stripe keys, set a Statement Descriptor, switch between Test and Live mode, and more.
Create a Payment Form
After you've configured your global settings for Divi Payments, the next step is to create a payment form! The great thing about creating payment forms is that the process is the same as adding any other content in Divi.
Head over to a page where you'd like to add a payment form, and launch the Divi Builder. Chose where you want to add the form (e.g. section, row, column, etc.), search for the "Payment Form" module, and insert the module. The Payment Form module gives you the following settings: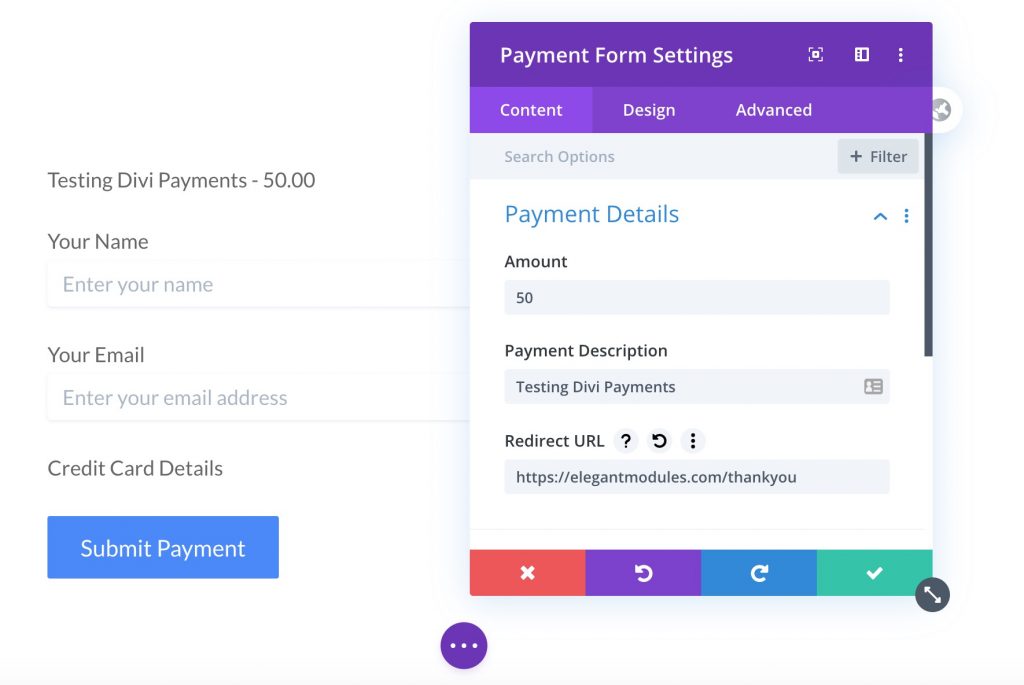 Payment Details
Payment Amount - The amount to charge your customer.
Payment Description - A description for what you're charging the customer.
Redirect URL - Where the customer will be sent after payment is successfully completed.
Payment Form
Button Text - Text for the payment submit button.
Enable Email - Collect an email from the customer.
Enable Name - Collect the customer's name.
Design Settings
As with all other Divi modules, you can modify the appearance of the purchase form via the Design tab.
After configuring and saving your payment form, you'll get something like this on the frontend of your page.
Payments in the Admin
Any payments system wouldn't be very useful without a quick, easy way to view and manage payments. Divi Payments includes an admin area where you can view your payments, and even issue full or partial refunds without needing to open your Stripe dashboard.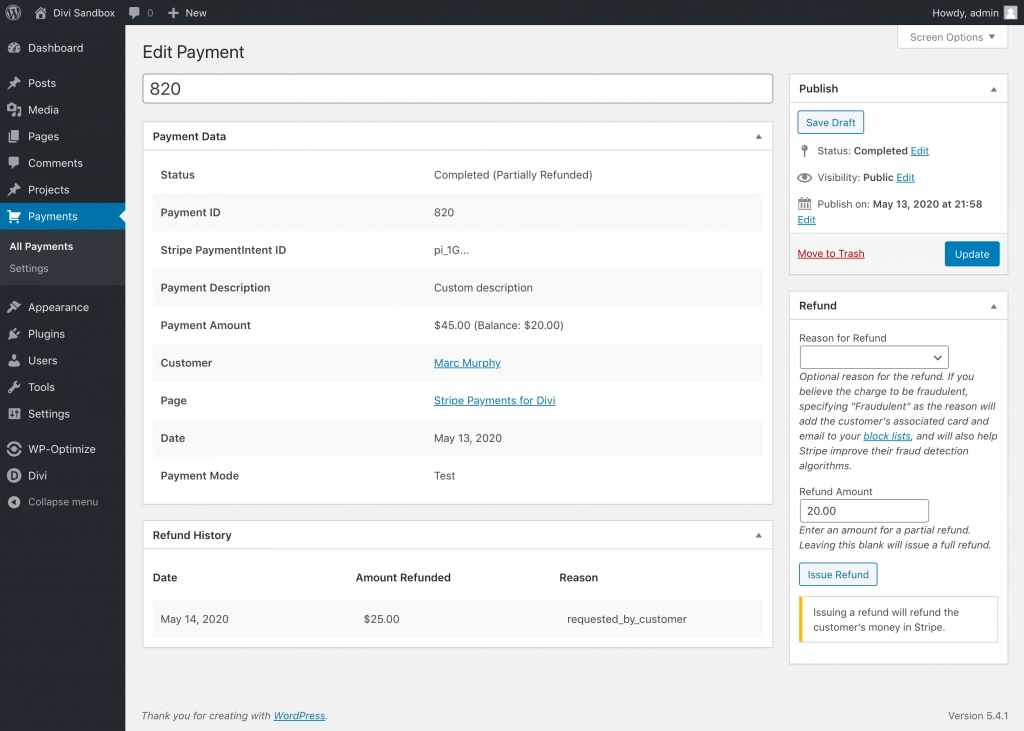 Divi Payments is Lightweight, but Flexible
Divi Payments is new and will continue to grow in the features it offers. If you're comfortable with code, though, Divi Payments includes plenty of hooks for customizing the behavior, and adding new functionality.
Payments for Divi Pricing
Basic
Great for Website Owners
One License Activation

Regular Support
Plus
Great for Production and Staging
3 Activations

Regular Support
Expert
Great for freelancers and agencies
10 Activations

Priority & Weekend Support
Other Elegant Modules You May Find Handy
Abandoned Carts for LifterLMS
Recover lost customers and revenue with Abandoned Carts for LifterLMS. Easily create order recovery emails, track abandonment and conversion rates, and make back some of that lost money.
Gutenberg + Paid Memberships Pro
Elegant Modules integration to combine Gutenberg and Paid Memberships Pro. Protect Gutenberg content by selecting a membership plan, adjusting your unauthorized message, and save!
Gutenberg + LifterLMS
Elegant Modules integration to combine Gutenberg and LifterLMS. Protect Gutenberg blocks by selecting a membership plan, adjusting your unauthorized message, and save!